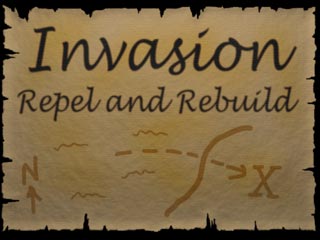 Invasion is a free 3D Action Puzzle game based on the classic arcade game, Rampart.
The gameplay has elements of Missile Command and Tetris.
Click here to read a more thorough description.
Or click the link below to download and start playing.
Download - Invasion: Repel and Rebuild
Invasion runs on Windows only and no installation is necessary.
Just unzip the downloaded file and double click on invasion.exe.
The source code is also included should you wish to check it out.
Rendering is performed using

If you have questions send an email to
Vote for Invasion at Game Alchemy.